Vicdessos – Ariège (Euro Nymphing & Dry fly fishing)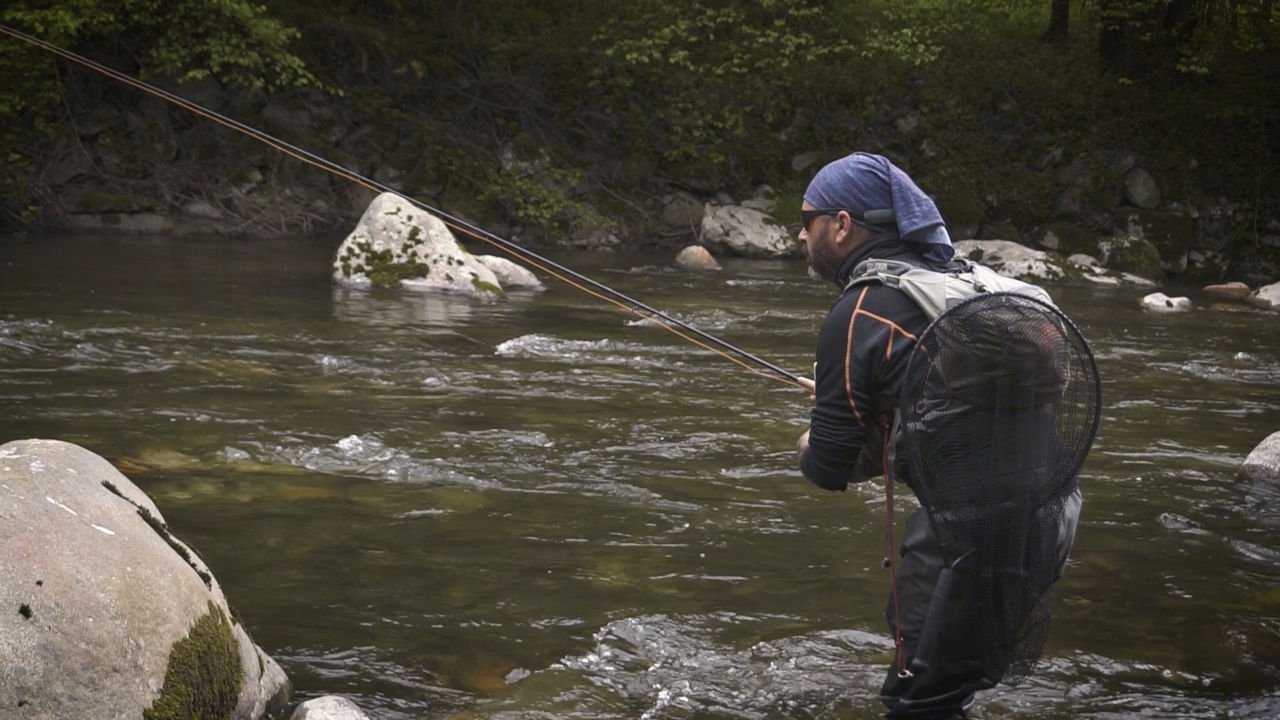 Euro Nymphing. Fly fishing guide in France. Nymphe au fil. Pêche à l'espagnole. Dry Fly Fishing. Pyrénées. Ariège. Guide de pêche. Vicdessos. Garbet. Hers-Vif. Salat. Arac. Oriège. Arget  Bouigane. Montagne Noire. Aude..
Last September, Hugo Brun and I made a fly fishing video on the Vicdessos (here is the link: https://youtu.be/1IImSE0ayNw).
We had a great time, in spite of encountering a whole set of pitfalls. We lost several hours of filming because of morning rain. And in the afternoon, the few active fish we found were very small. Nevertheless, the final version of the video turned out well and we published it.
We wanted to draw on that experience for a second project, also on Vicdessos, and we have made a new video :
In the interim, Hugo learned to fish for trout in rivers, and to move in the water with complete safety. So that during the second day, he was able to fully put his new skills into practice, freeing me to fish without constraint, almost as if I was alone.
Although we didn't know it when we found ourselves on the edge of the Vicdessos early in the morning, it seems that all the planets were aligned that day.
The video takes place in 2 phases, based on the way the fishing progressed.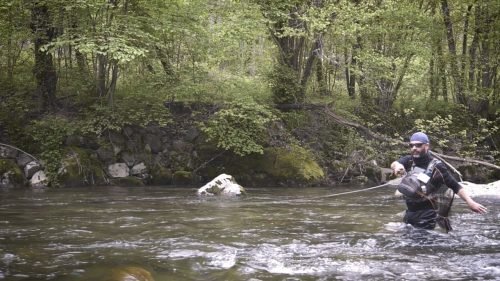 In the morning, I started fishing with the "Euro Nymphing" technique, with a second fishing rod on my back to switch to dry fly fishing if needed. Fishing was not easy from the start, it took a while before I caught my first fish.
Once the positioning of the fish was able to be determined, it became immediately easier. I fished a lot with only a light nymph. Nymph fishing in a medium-sized river like the Vicdessos, with active fish, is something that I love.
In the afternoon the fish were active on the surface, so I used the "Marryat in 10ft # 3-4". And luckily, I was able to fish with this rod until the end of the day!
Look for the video to be online in a few days…
And I'll be back soon with more updates…
[custom_button text="Infos guidages" title="prestations" url="https://www.jour-de-peche.com/" size="large" bg_color="#ff6600″ text_color="#ffffff" align="center" target="_self"]
[custom_button text="Livre d'Or" title="Livre-Or" url="https://www.jour-de-peche.com/livre-or-peche-irlande-et-france/" size="large" bg_color="#99cc00″ text_color="#ffffff" align="center" target="_self"]
[custom_button text="Chèques-cadeaux guidages" title="chèques-cadeaux-peche" url="https://www.jour-de-peche.com/cheque-cadeau-peche-carnassiers-et-truites/" size="large" bg_color="#993366″ text_color="#ffffff" align="center" target="_self"]
---
---
---