A big fish for a ten years old child!
A very big fish (38,2 inches) caught by Louis, ten years old!
2012 season – April 26th!
In Ireland if you go fishing for the first time, it is possible to catch a very big fish! Even if you are just ten years old! That day Louis, ten years old, was the best!
In the morning, all the family was ready for fishing on a boat? What a beautiful spring day, look at the picture… 🙂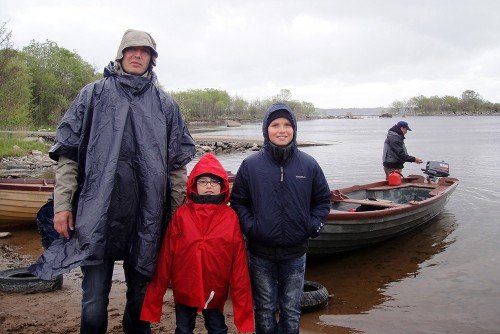 When we go fishing on Mask Lake the goal is to catch a big pike, not a lot of fosh, but a big pike or a very big pike! With a family it is more difficult, but to go fishing in traditional Irish boat is already fun. It is an opportunity to discover many beautiful landscapes.
Then if a big fish comes with us for a picture on the boat it is really great. Well done Louis!
Weather was very bad and in the afternoon we went to the edge of a river. Children were happy with… sheep.
Theo wanted absolutely to take a sheep in his arms. The farmer offered the Breucq family an opportunity to go into is arm, because there were very small sheep. And there Theo's dream became reality! The warm, welcoming Irish – it is not a legend!
Thanks a lot Jean-Philippe, Alexia, Theo and Louis, for this good time with you…
---
---
---